Belleair Beach
Dave Gattis - Mayor
Indian Rocks Beach
Joanne "Cookie" Kennedy -
Big C Vice President
North Redington Beach
Bill Queen - Mayor

St. Pete Beach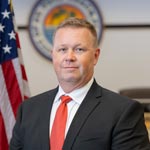 Adrian Petrila - Mayor
Belleair Shore
Robert E. Schmidt, Jr. - Mayor

Indian Shores
Patrick Soranno - Mayor
Redington Beach
David Will - Mayor, BIG C Treasurer/Secretary

Treasure Island
Tyler Payne - Mayor
Clearwater
Kathleen Beckman – Council Member

Kathleen Beckman
Council Member - Kathleen Beckman
Email: kathleen.beckman@myclearwater.com
Phone: 727-562-4050
City website: www.myclearwater.com
Bio:
Clearwater Councilmember Kathleen Beckman was born and raised in Michigan, where her family was and is committed to public service. She has earned a BS in Psychology and Marketing; Teacher Certification for English Education, and a MA in Education Leadership. Kathleen and her husband, Bryan, are the proud parents of Joshua, Sarah and Michael. They raised their family in northern Illinois and, upon retirement, moved to Clearwater in 2016.
Since moving to Clearwater, Beckman has been an active volunteer in the community. She is a Guardian ad Litem in Pinellas County. She also volunteers in local public schools, serves as chair of the Pinellas County Continuum of Care, and sits on the Executive Board of the Tampa Bay Estuary Program, as well as the Leadership Board of Thrive by Five, and she represents Clearwater on The Barrier Islands Government Council. Kathleen is an active member of Suncoast Sierra, helping to improve the environment and helping non-profit organizations and churches lower their energy bills and lessen their impact on the environment. Beckman is also an active member of the Clearwater Neighborhoods Coalition. She particularly enjoys working to improve voter engagement, and is a member of the League of Women Voters.
In her free time, Beckman enjoys reading, cooking, biking, hiking and spending time with friends and family. She loves to engage with residents and frequently schedules walk-and-talks with residents to not only share a conversation but get some exercise together.
Elected to office March 17, 2020, Beckman enjoys working with people directly to improve their quality of life and empower them through education. She is committed to raise the bar on the level of direct engagement of residents and neighborhoods.
Madeira Beach
Jim Rostek - Mayor
Jim Rostek - Mayor
Email: jrostek@madeirabeachfl.gov
Phone: 727-439-5562
City website: www.madeirabeachfl.gov
Bio:
Redington Shores
MaryBeth Henderson - Mayor
Big C - President
MaryBeth Henderson
Mayor - Redington Shores
Big C - President
Email: mayor@townofredingtonshores.com
Phone: (727) 492-6495
City website: www.townofredingtonshores.com